Lazutin Hives
Updated Nov 4, 2020
"Our goal is to make a convenient, high quality, warm, stationary hive that will last for decades. It should also be attractive - it should delight the eye instead of defacing the landscape.

To that end, I personally make my hives the way they should be made, without regard to the time and labor that go into them. And, truth be told, making them can be labor-intensive and not exactly cheap. But by the same token they're solid and can stand the test of time." - from Fedor Lazutin's latest book Keeping Bees With A Smile ©2020 Fedor Lazutin.
This website is devoted to the furtherment of the Natural Beekeeping method. Many bee supplies, books, and building plans can be obtained from horizontalhive.com. Initial inspiration came from Fedor Lazutin's book "Keeping Bees With A Smile" available from horizontalhive.com or Amazon. Also see Dr. Leo Sharashkin's instructional videos on Youtube.
The Lazutin hive is a horizontal hive with extra deep frames. This hive is well insulated for all types of extreme climate conditions. Access to the frames and bottom is from the backside so the bees aren't disturbed by your presence.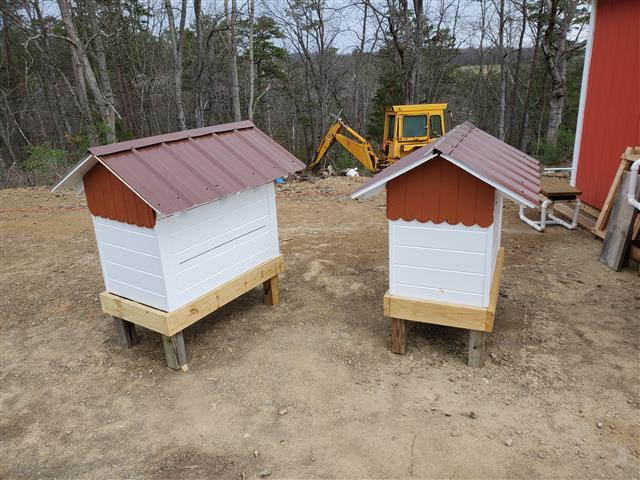 Two hives just out of the woodshop
Model #LZ24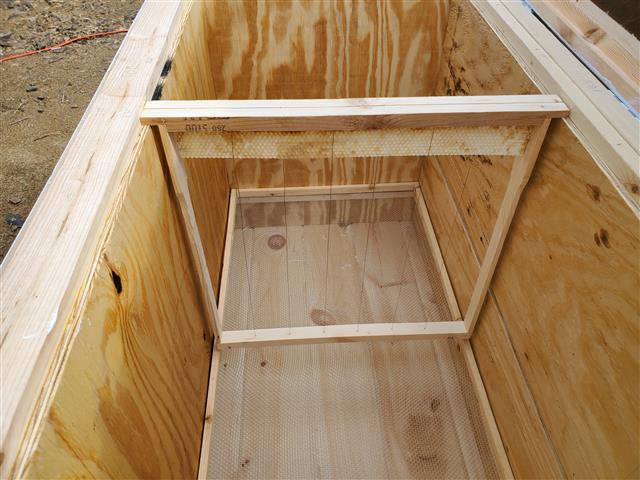 The extra deep Lazutin frame with 19 inch top bar is the same standard Langstroth length with standard 3/8 inch beespace, the same as Langstroth. It is 18 inch deep though. The screened bottom allows for cleaning and inspection. This frame is Model # LXDF.
All walls have two inches of Styrofoam™ and one inch of wood for excellent insulation.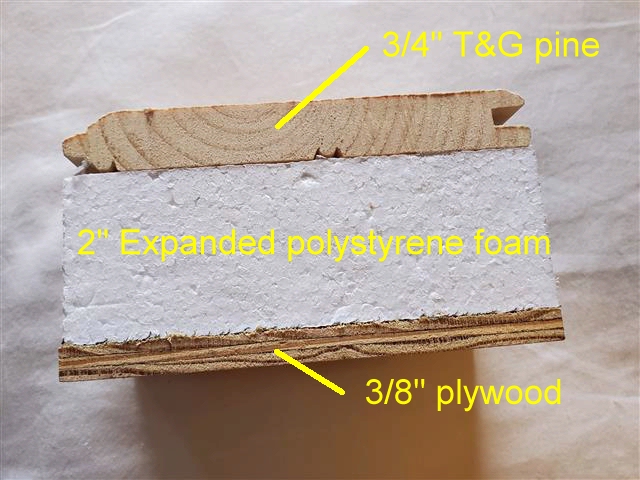 ---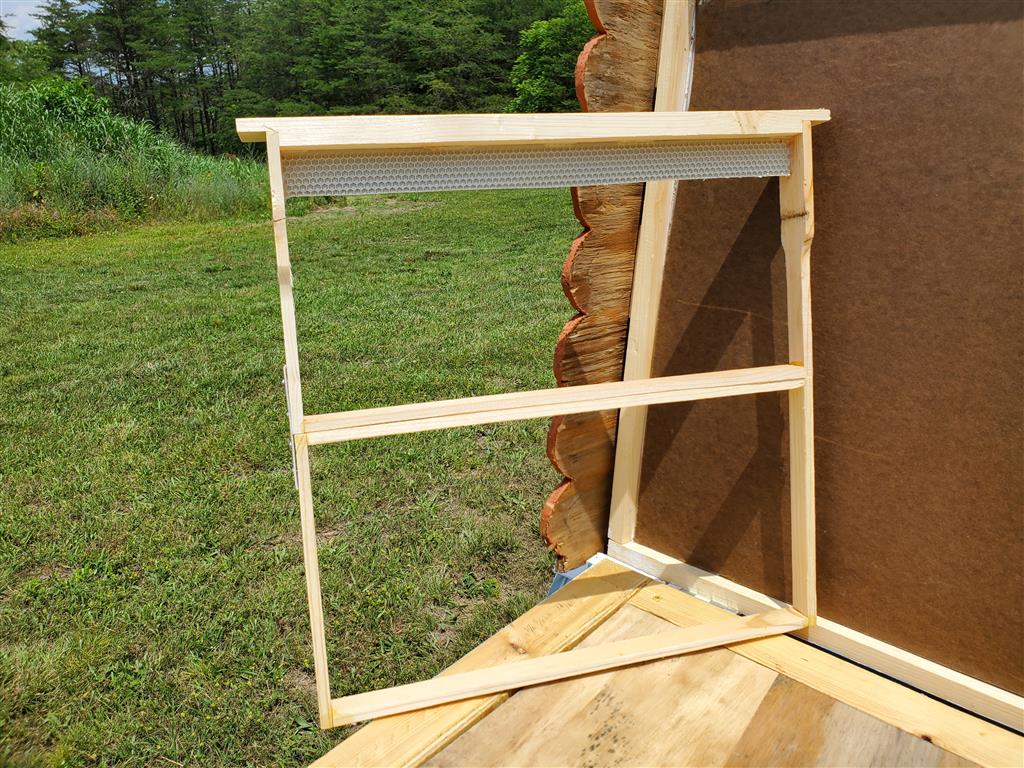 For those that want to use a standard Langstroth sized honey extractor you can use the Lazutin Extra Deep Split Frame Model #LXDSF
Just unscrew the brackets on the sides and frame will split allowing insertion in a standard honey extractor. 2 inches of starter foundation is sealed to the top bar on this frame. If you have standard deep Langstroth wood frames you can attach a lower frame to it. Part # LBF1.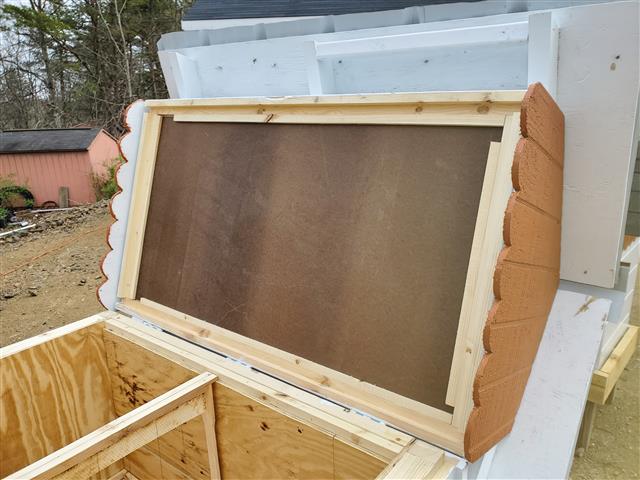 Roof section swings open. Five inches of Styrofoam™ and wood in roof provides excellent insulation. Large overhanging roof keeps rain and sun off the sides and provides shade and air flow in the hot summers.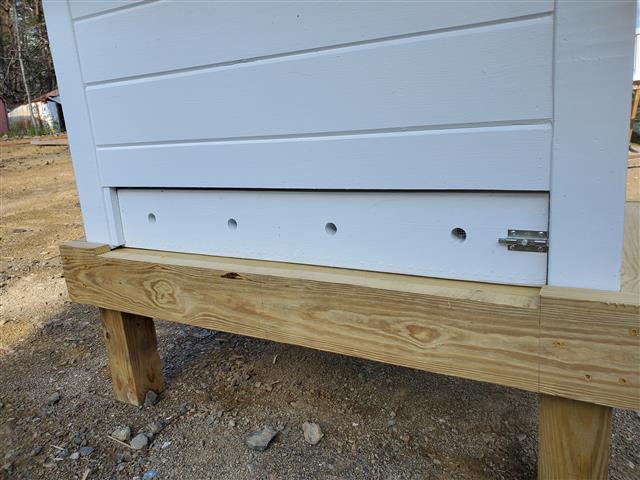 Removable rear panel access for inspection, cleaning, or inserting extra winter insulation.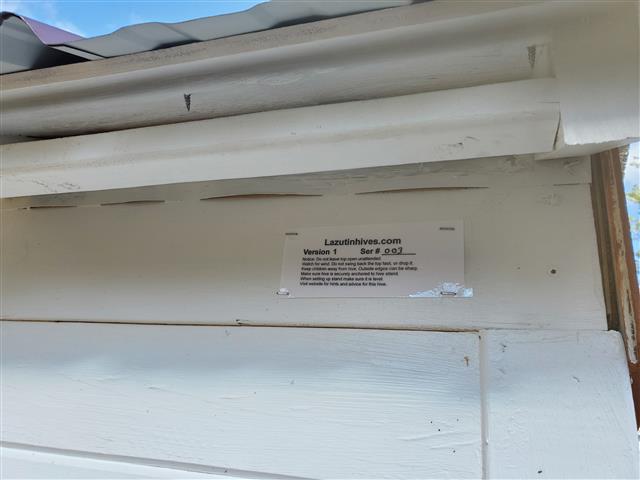 Every hive has basic instructions and serial number on placard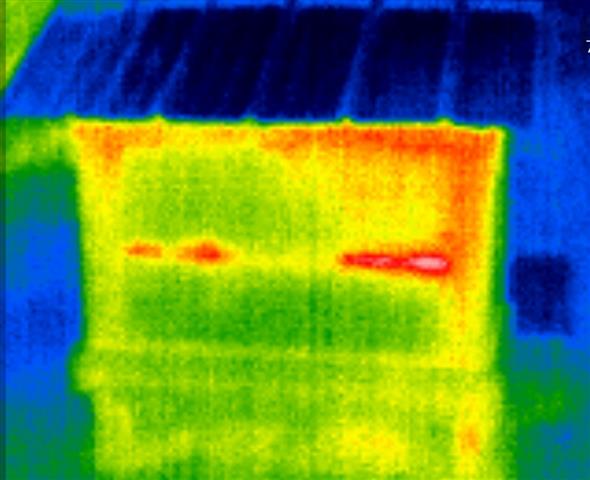 Infrared view. Red shows a healthy hive during cold winter night.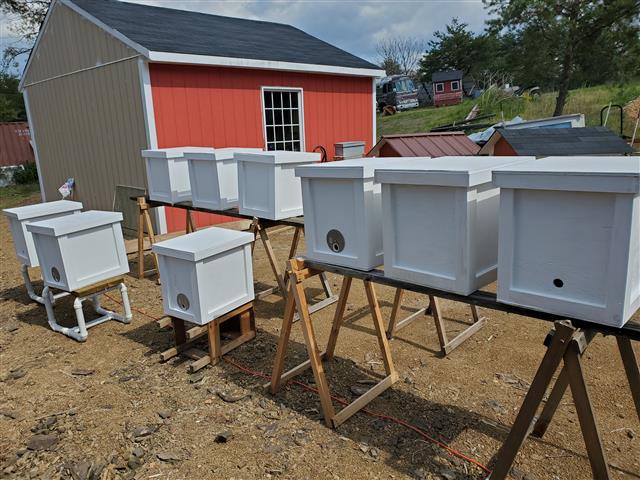 Swarm traps hold 8 Lazutin extra deep frames and are painted for weather protection ready for custom or camouflage paint.
Model # LT8F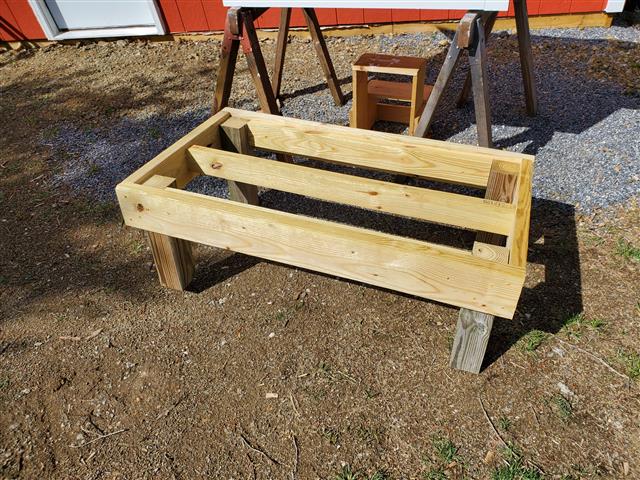 Heavy duty bee stand Model BS1
Hive stand preparation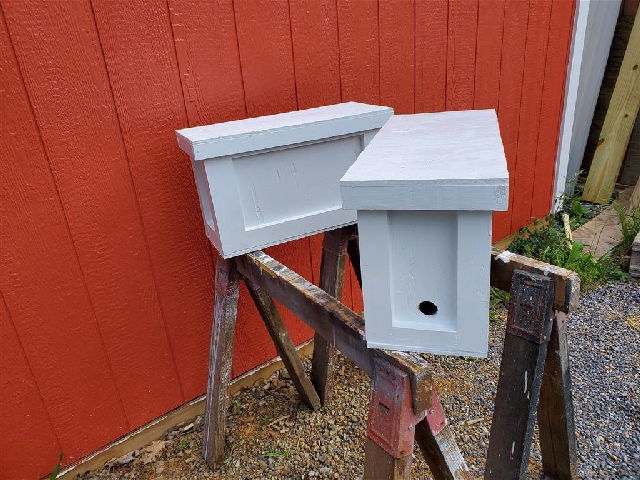 4 frame deep NUC/Swarm box
Will take four medium or deep Langstroth frames
Model # ST4D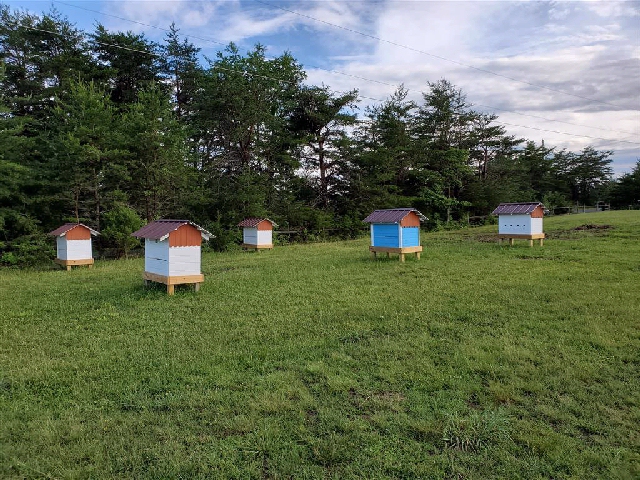 My HappyApi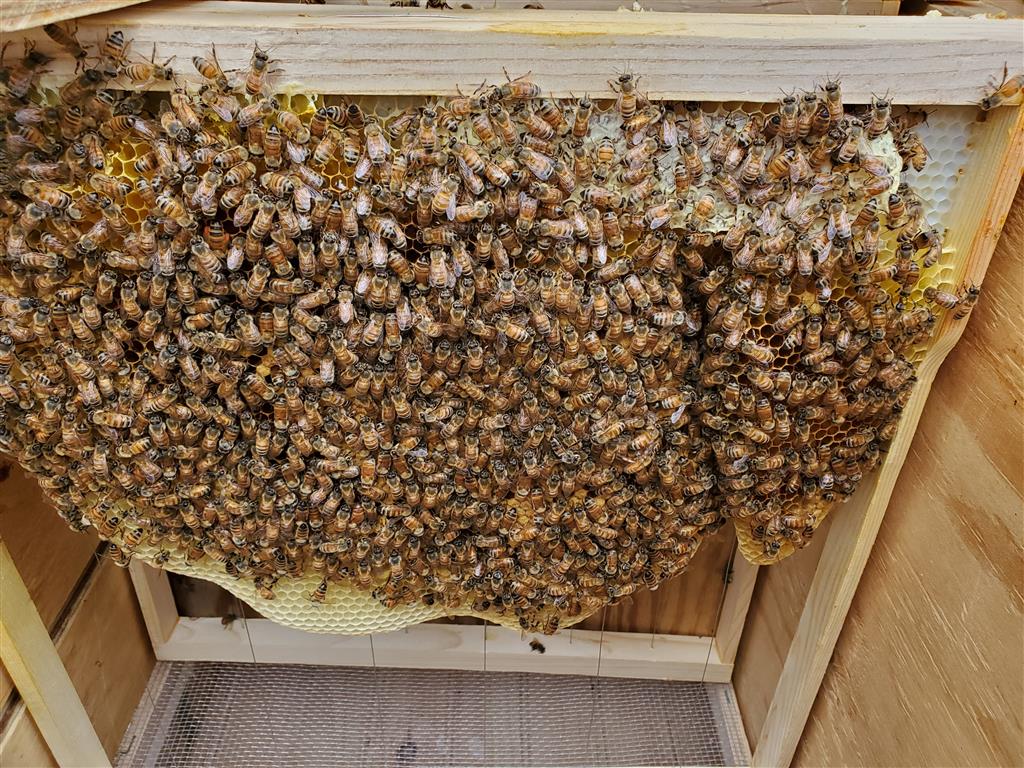 Happy bees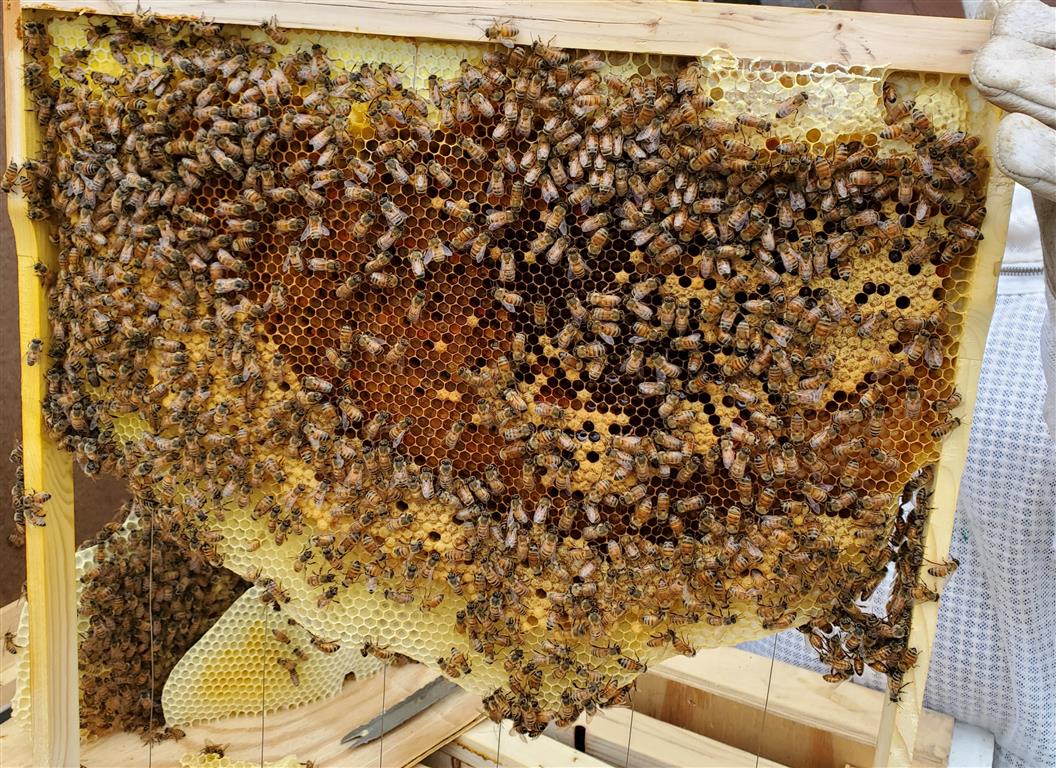 Honey, pollen, nectar, and brood 45 days after installing swarm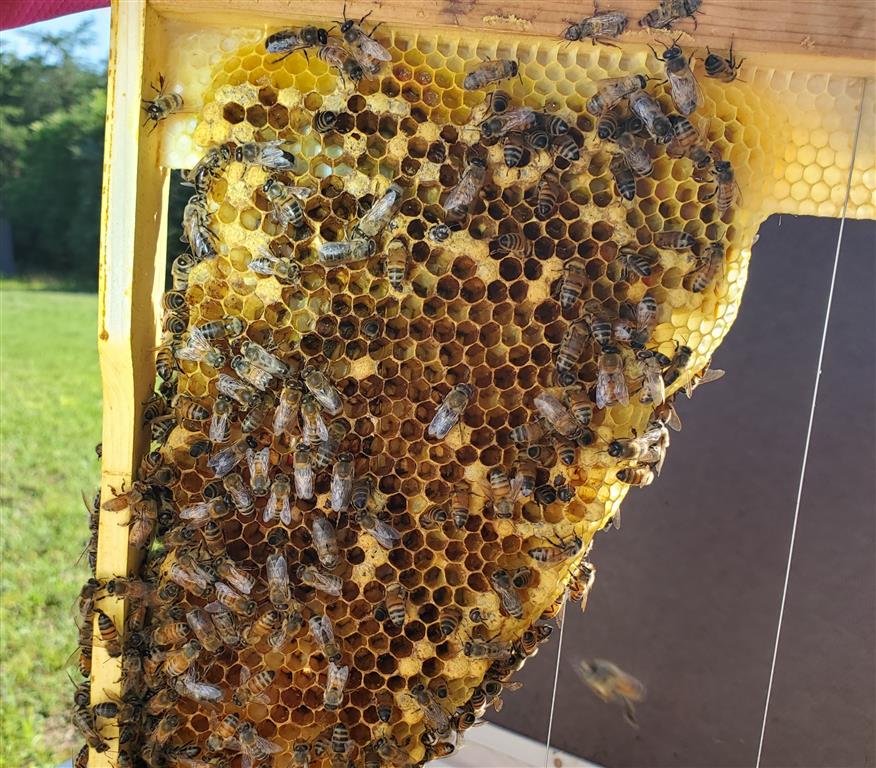 Smooth transition from starter foundation to natural comb. The size of the foundation comb cells are not conducive to drone cells. The bees will size the cells as required.
---
Advantages and Disadvantages of the Lazutin Hive
Advantages:
1) Less confrontation with the bees. Leave them in their natural environment without periodically moving frame boxes around.
2) Access to the hive is from the back and you don't disturb the bees on their flight path on the front.
3) Heavy, quality construction. Will last many years with minimal maintenance. Almost 100% bear proof due to the construction. Even if possibily overturned, the frames will stay secured in place. No need for an annoying electric fence.
4) Withstands extreme temperatures. With two inches of foam in the walls and four inches in the roof, it stays cool in the summer and warm in the winter. There is airflow between the "attic" and the roof allowing for a cooler hive in extreme high temperatures.
5) Overhanging roof sheds water away from sides especially the entrance allowing bees a dry landing area in heavy rains.
6) Four movable one inch bee entrances to allow moving the brood-to-entrance without moving frames. The one inch entrance discourages robbing.
7) Extra deep frames allow for less interruptions on each comb. Standard Langstroth top bar allows the use of standard frames and the capability of extending a Langstroth deep frame. Since the frames can be split as shown above, the frames will fit a standard honey extractor.
8) Rear panel access allows for cleaning out debris, placing mite and beetle traps, ant poison, and allows for added insulation in extremely low temperatures.
9) Design and phasod to "...delight the eye instead of defacing the landscape." as Fedor Lazutin says in his book
10) Standard model will accept 24 extra deep frames. More than enough for a large colony. No lifting of heavy supers and the possibility of dropping them.
11) Being a "horizontal hive" you only disturb one frame at a time during inspections.
12) Winter moisture and CO2 are removed thru diffusion from the rear panel vents and the bee entrance. (See Pg 226 in the book "Keeping Bees With A Smile".
Disadvantages:
1) Total size is not heavy but bulky if trying to move them. However these hives are not meant to be moved.
2) Local pickup and delivery is preferred. Shipping is almost out of the question.
3) Initial cost is high but is a one time investment.
4) Using extra deep frames (not split) means using a larger extractor or hand extracting honey.
---
Pricing and availability will soon follow. As of winter 2020, the prices of raw material have almost tripled.
High quality construction will give decades of service. Acrylic base paint ready for your own designs and images.
Removable panel on lower rear allows access for cleaning, mite trapping, and adding winter insulation without disturbing the bees.
Hive will accept twenty-four US (not Russian) extra deep frames.
Optional heavy duty hive base will last for years.
---
Recently I have had a number of inquiries as to the new bee entrances I have designed. The original Lazutin hive had a slot across the front but in his latest revision of his book he referred to Andrey Yakimov's round bee entrances which emulate a natural bee entrance like a knot in a tree hollow. My designs now incorporate these entrances. This allows me to move the brood over without moving frames by just moving the entrance, and also prevents robbing. Also the front wall is easier to assemble with less parts.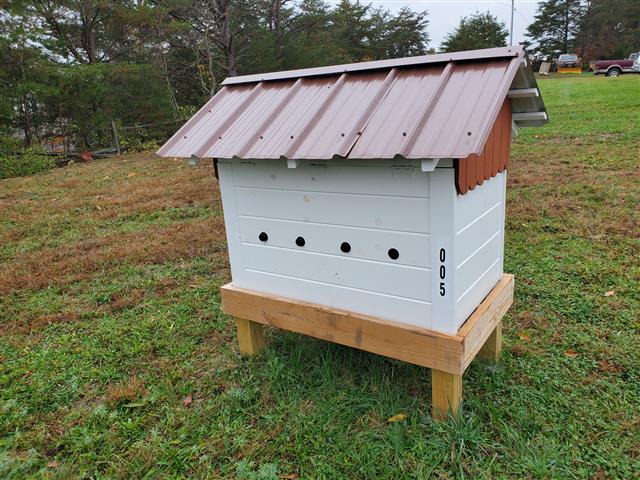 The entrance tubes are made with a 3D printer and using ABS filament. ABS is UV resistant and will last a long time. Only one entrance needs to be open at a time and ABS plugs are placed in other three entrances. The tube passes through the Styrofoam so the bees don't try digging into the Styrofoam. Tube and plug sold together for US$4.00. LZBE1 (Four required for a hive.)
The entrance holes are 1-1/4 inch (3.175cm) in diameter. I use a NEMA standard 1" (2.54cm) electrical knockout hole drill bit to make the hole in the front wall. Since there is a two inch Styrofoam panel in the center, the 3D part is a slightly tapered tube to snugly fit the hole. This keeps the bees from attempting to bore holes in the Styrofoam.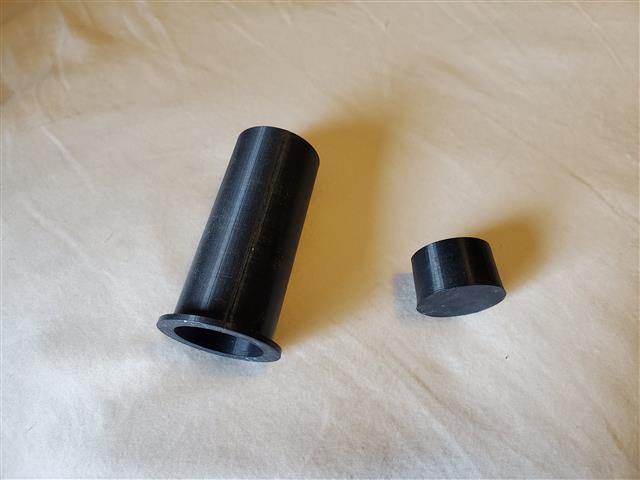 Part number is LZBE1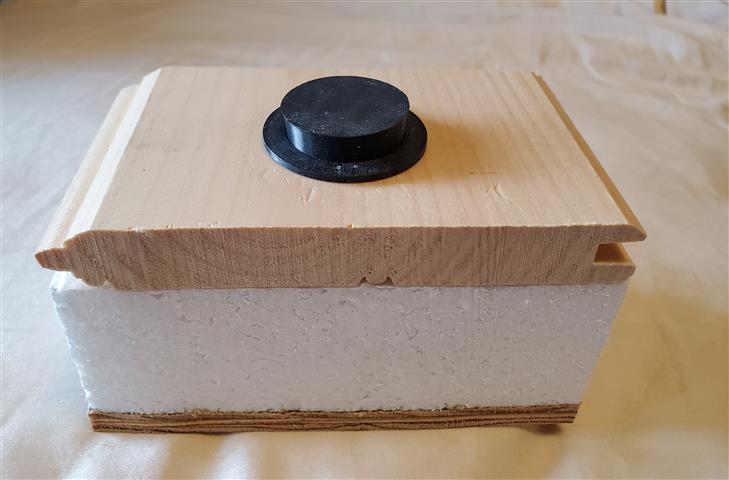 This view shows the structure of the walls and in this case, how the bee entrance is situated.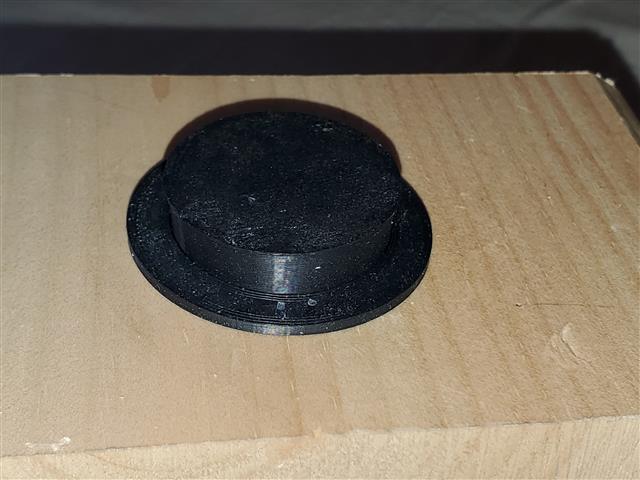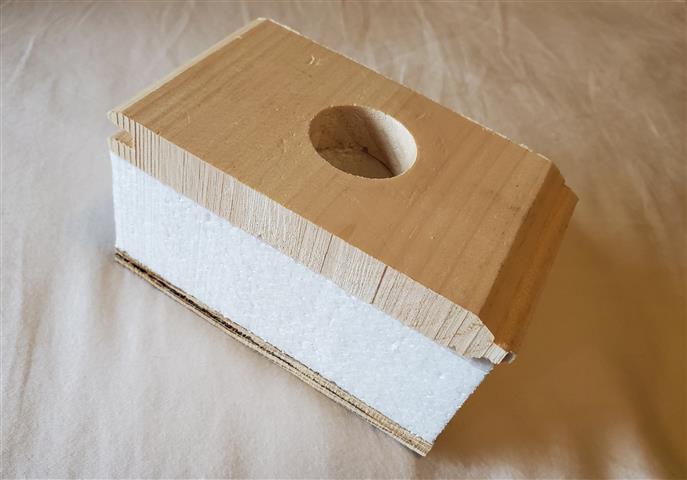 ---
The Bee Box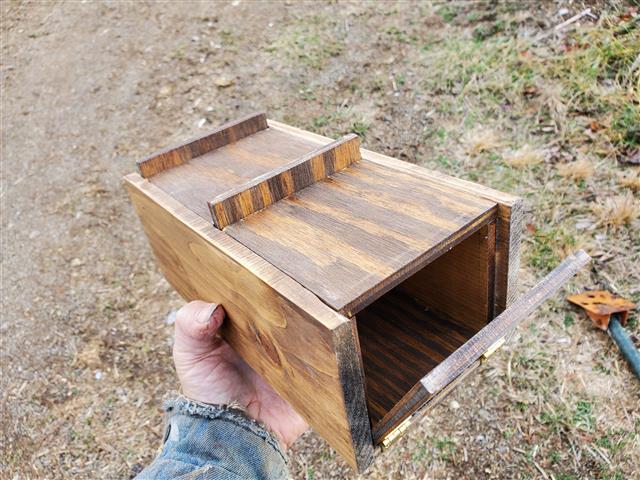 Dr. Thomas Seeley's bee box trap as used in his Youtube Video will be available soon. Model # BB1
Design credits to: Dr. Leonid Sharashkin, The late Fedor Lazutin, and Andrey Yakimov
Pictures and hive redesign Copyright ©2020 Rick C.
Contact information: Rick
---
BB1- Bee Box
BS1 - Bee Stand $90.00
ST4D - Swarm Trap 4 Deep (Langstroth medium/deep frame) $30.00
LT8F - Lazutin Trap 8 Frame $50.00
LXDF - Lazutin Extra Deep Frame $14.00
LXDSF - Lazutin Extra Deep Split Frame $17.00
LH24 - Lazutin Hive 24 Frame $750.00
LH32 - Lazutin Hive 32 Frame $950.00
LBF1 - Bottom frame extension with screws and brackets $7.00
All prices subject to change.
Note: All frames sold separately. Hive base is extra. Shipping extra.
Main hives are still in design stages. Improvements are being made. Currently these items are made to order.